BLOG
ISO 22000 - With a sense of responsibility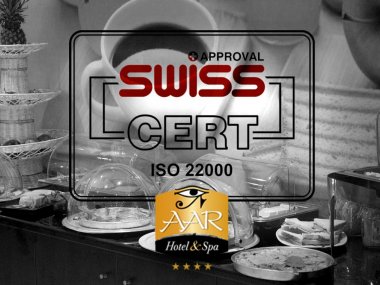 The need for optimized services in the hotels and restaurants business, is more than imperative. AAR Hotel & Spa, knowing in depth the requirements of its customers, has upgraded its services to the extent that few hotels can follow. The ISO 22000 is one of those services that each visitor of a hotel should be able to enjoy. The certification application is not only held for the needs of the Greek legislative framework, but also as a hotel we have a sense of responsibility and offering when it comes to the high quality the food consumed in our unit should have.
Specifically, the ISO 22000 is a complete solution, internationally recognized in the catering industry. It is an excellent Security and Products Hygiene Management System including the HACCP and the implementation of relevant legislation in each food type. Also, the way it was designed is compatible with management systems aiming to allow for integration and cooperation with other management systems, resulting in a unique and unified system.
The main objective of the evaluation, recognition and analysis phases of the production process, with risk prevention and control, is to reduce a very large percentage of such risks. It should also be noted that the ISO 22000 is a standard that acts preventively and does not detect quality, but focuses exclusively on product safety and food.
The AAR Hotel & Spa, in applying ISO 22000, has not just reduced a high percentage of consumer complaints, but it has wiped them clean. Complaints of stomach discomfort or food poisoning do not exist in our unit, which makes us proud and clearly happy because we provide services in a way that you want to enjoy your stay in our modern hotel.
This way we have earned the trust of many tourists, and groups associated with politics and sports. Convoys of foreign political leaders are totally satisfied because of the high catering security they enjoy in AAR Hotel & Spa. It is an obvious fact that a safe diet is utterly important for a head of state or a prime minister.
Equally important is the safety of food and other products for sports teams. Both large associations and local groups trust the relaxation of athletes to our hotel. It is very important for us to offer highly secure nutritional benefits to athletes. Also, it is our honor that AAR Hotel & Spa is chosen by national teams for their stay or preparation. The quality and safety of the foods we choose make us champions of ioannina hotels.
We would like to invite you to share this success with us, but even more to enjoy a special accommodation that offers high safety food services with the assistance of ISO 22000, which AAR Hotel & Spa strictly applies and for which checks are being done whenever necessary by the regulations of the organization and the current legislation. Our goal is your ideal accommodation and driven by your convenience, we improve our services day by day.