BLOG
Hotel Wifi and advantages!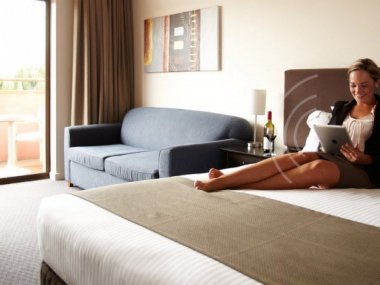 A good hotel is not only just about your neat bed or the hot water in the bathroom. A hotel offers
hospitality to the work that has to be done away from your home base. There are few times when
we all found ourselves in the unfortunate position of not being able to contact our work or our
family environment. But is this our only need for communication?
AAR Hotel & Spa's service is not only excellent according to the comments of our customers on
Trip Advisor, but also speedy. Our ally in speed is not just our staff, but the WiFi network we
provide. With 50mbs speeds we will all agree and the reasons that make it even more important are
the following.
How often have you struggled to manage the correspondence of your office with the indication
signal struggling to indicate just one line? This development is prohibited in AAR Hotel & Spa.
The download speeds are accompanied by a high upload of up to 4mb. So every need for your e-
mail can be covered.
Additionally, based on the development of electronic business, it would be impossible not to think
of our customers who deal with online business. Like we do our best for you, you also want to
serve your customers as good as you can. These speeds allow you to manage the platform of your
e­shop with great ease by uploading new products or simply to serve a new order. The e­business
lifestyle is also in our own culture.
The WiFi does not only serve professional obligations and family. A weak signal means a weak or
no picture on your skype. You want to share beautiful images and emotions with your family or
your friends, and we want them to see how beautiful your time in our hotel is.
Also, Zagoria and Ioannina city center are not for the uninitiated visitors. The secrets of Epirus are
many and are waiting for you to uncover them. The excellent WiFi connection will help you find
the desired information at the right time. Just before you leave the hotel you'll be ready to go to
your desired destination without wasting time.
Regarding the journey, it never ends! The next flight is approaching and although we want you
near us we do not want you to miss it... Enter the website of your airline and you will easily and
quickly do the check­in to catch your flight. After a night in Ioannina it is difficult to wake
someone up on time. Fast Wifi means immediate check­in through the Internet access from all
areas of the hotel. Our hotel's Ten Unifi antennas guarantee full access and that the line will never
have downtime!
The AAR Hotel & Spa is not alone in this effort. It maintains the best WiFi network thanks to
nowire.gr. It is a company with excellent reliability, it is licensed by EETT and has partnerships
with high­tech companies. The nowire has its own network and luxury to provide speeds that reach
the astronomical figure of 1,6 Gbps. Our organization in network issues is not limited here. For
backup line we reserve OTE as a provider with 24 mbps, which means that you will not miss the
internet ever.
Finally, how to connect to the network is extremely simple. Follow the instructions below and
enjoy your stay!
1) Turn the WiFi
2) Select the network AAR Hotel & Spa
3) The screen hotspot opened click on "click to continue" and sends you to the Facebook page of
the hotel
4) Surf freely!